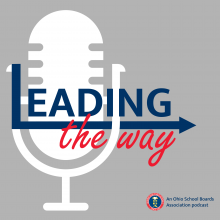 Listen to OSBA's podcast to stay informed about association news and the issues impacting public education.
Season 1, Episode 10: School transportation during a pandemic: Just how flexible are we?
For school administrators, the coming weeks and months are going to test everyone's management skills, including those who oversee transportation. Can we really social distance on a school bus? What will routing look like in the fall? Will we have enough bus drivers? OSBA Senior Transportation Consultant Pete Japikse discusses the new challenges we're experiencing as we live through a pandemic together. To maximize your chances of success, he says you need to take a step back from the planning process and answer a lot of questions. OSBA's Virtual Transportation Supervisor also can help guide your district through these challenges. Learn more about the subscription-based program at https://www.ohioschoolboards.org/virtual-transportation-supervisor.
Season 1, Episode 9: School district budget cuts during the coronavirus pandemic
Over the next two months, local school districts will lose more than $300 million dollars — the result of state budget cuts due to the coronavirus pandemic. Those cuts amount to nearly 4% of original base funding for school districts, which is separate from money districts receive from local property taxes. Jennifer Hogue, OSBA's director of legislative services; Kevin Miller, director of governmental relations for the Buckeye Association of School Administrators; and Barb Shaner, advocacy specialist for the Ohio Association of School Business Officials, join the Leading the Way podcast to discuss the cuts' impact on schools and what federal funds districts may receive through the CARES Act. More information is available at http://links.ohioschoolboards.org/34421.
*Information in this podcast was current as of May 8, 2020.
Season 1, Episode 8: Addressing the needs of students with disabilities during the coronavirus pandemic
While Ohio's students are adapting to online classes and other forms of distance learning, the new reality can be especially challenging for the families of students with disabilities. About 14% of students enrolled in U.S. public schools receive special education services. In this episode, OSBA's Deputy Director of Legal Services Jennifer Hardin discusses how parents and districts are working cooperatively to ensure that students receive services during building closures. More resources are available at https://www.ohioschoolboards.org/coronavirus-covid-19-resources under state resources. U.S. Secretary of Education Betsy DeVos' April 27 report to Congress is available at https://www2.ed.gov/documents/coronavirus/cares-waiver-report.pdf. 
Season 1, Episode 7: The coronavirus and education's digital divide
With school buildings closed because of the coronavirus pandemic, many teachers have shifted to online classes. But what if reliable internet service isn't available? Some students don't have a computer or high-speed internet at home, or even access to cellphone data due to income or their geographic location. The U.S. Department of Commerce estimated in 2017 that 7 million school-aged children lived in households without in-home internet service.  Two superintendents from school districts in rural southern Ohio -- Symmes Valley Local's (Lawrence) Darrell Humphreys and Alexander Local's (Athens) Lindy Douglas -- discuss how their students are learning in areas where the digital divide cuts deep.
Season 1, Episode 6: Leading your district effectively amid a changing world
Our home, school and professional worlds have been turned upside down. Even so, we are learning and discovering new ways to continue in our professional roles, and in some cases, we've been asked to take on new roles during the coronavirus pandemic. This is especially true for school board members who are juggling their family and career responsibilities. Add to that the concern for their district's well-being. Cheryl Ryan, OSBA's director of board and management services, and Steve Horton, senior board and management services consultant, discuss how board members can continue to be effective advocates and how district administrators can help.
Season 1, Episode 5: Teaching during a pandemic: Why SEL and staff cohesiveness are more important than ever
Educators had to become distance learning experts overnight amid the coronavirus pandemic. They are facing new demands in meeting the needs of anxious students and their families. Add to that, the responsibility of caring for their own families during the health crisis. Dr. Kathy McFarland, OSBA's deputy chief executive, and Karen Sedoti, principal of Olentangy Local's (Delaware) Olentangy Academy, discuss what educators are experiencing during these challenging times, the importance of mental health and social-emotional learning (SEL) and what administrators can do to help maintain a cohesive staff.
Season 1, Episode 4: Coronavirus: Holding board of education meetings
With social distancing and stay-at-home orders in place, OSBA has received many questions about Ohio's Open Meetings Act and holding board of education meetings during the pandemic. What is a virtual meeting? How can the public participate? What about executive sessions? OSBA Chief Legal Counsel Sara C. Clark answers these questions and more. For up-to-date information on this topic and other legal issues related to the coronavirus, subscribe to the OSBA Legal Ledger at https://www.ohioschoolboards.org/blogs/legal-ledger. Also, follow Sara on Twitter at @SaraCravenClark. OSBA members can contact the legal division at (855) 672-2529 or (855) OSBA-LAW.
Season 1, Episode 3: Student achievement during the coronavirus closures: It looks different
We are in this together! While the coronavirus has closed school buildings across the state, what board members, administrators, teachers, parents, community members and others have accomplished is nothing short of phenomenal. These are transformational times, and there may be no better time to think seriously about student achievement. OSBA Senior Student Achievement Consultant Kim Miller-Smith discusses the importance of academic success as students adapt to learning from home. Also, be sure to check out Kim's Achievement Matters blog at https://www.ohioschoolboards.org/blogs/student-achievement. She's compiled numerous at-home learning resources.
Season 1, Episode 2: A conversation with 2020 OSBA President Lee Schreiner
Lee Schreiner, South-Western City, became OSBA president on Jan. 1. We sat down with OSBA's 65th president to discuss his goals for the association and his long career in public education. Schreiner taught at South-Western City Schools for 37 years before retiring. He has served in numerous federal, state and regional leadership roles. He currently serves on OSBA's Board of Trustees, Executive Committee, Federal Relations Network and Central Region Executive Committee. He was the Central Region president in 2017. Don't forget to check out what OSBA's Transportation Services can do for your district at https://www.ohioschoolboards.org/transportation-services.
Season 1, Episode 1: Welcome new board members
OSBA Director of Board and Management Services Cheryl W. Ryan and Membership Retention and Engagement Consultant Mark E. Bobo share tips for what new board members can expect in their first year. Learn how OSBA can help you on your journey at https://www.ohioschoolboards.org/new-board-members. Also, Deputy Chief Executive Dr. Kathy McFarland explains how social-emotional learning has become a key indicator of student success not just in the classroom but in life. Don't forget to check out what OSBA's Transportation Services can do for your district at https://www.ohioschoolboards.org/transportation-services.