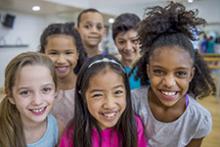 Diversity and equity in your district: From planning to action
Diversity is recognizing the differences among people and groups of people, and placing a positive value on those differences. Equity refers to the fair and respectful treatment of all people. We need to do everything we can to identify and eliminate unfair biases, stereotypes or barriers. 
OSBA, through the work of its Diversity and Equity Committee, is excited to bring you the resources needed to effect change in these areas. The tools provided through these resources will deliver high-quality instruction, resource allocation and accountability to achieve educational equity and strategies to narrow the achievement gap.
Learn how to foster diversity and equity with the help of OSBA's diversity and equity consultants. Click on the companies below to learn more about their services.
For more information, contact Mark Bobo, OSBA membership retention and engagement consultant, at (614) 540-4000 or (800) 589-OSBA.