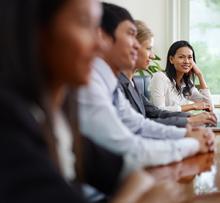 Welcome new board members!
Congratulations on being elected to your local school board. There is no greater contribution than serving as a member of the leadership team that provides educational opportunities for the children in your community.
We're here to help!
The Ohio School Boards Association began in 1955 after four regional associations banded together to coordinate activities. Today, OSBA is composed of 711 school boards. Their 3,424 elected board members represent Ohio's local, city, exempted village, career center and educational service center districts. The management teams of member boards also have access to all OSBA services.
To help you start off on the right path, register for OSBA's Board Member 101 workshops. These workshops focus on board governance, legal, policy and advocacy issues. Learn about the important aspects of board work, frequently asked legal questions, how board policies help govern your district and how to be an effective legislative and student achievement advocate for your students. Click the links below to register.
Next steps
After you attend the Board Member 101 workshops, the following training opportunities are essential first steps in your board governance journey:
Board Leadership Institute
Boost your leadership skills at the OSBA's Board Leadership Institute (BLI). It provides new and veteran board members across Ohio information to help them guide their districts forward. The two-day institute is the only leadership development event in the state designed exclusively for school board members.
Regional fall conferences
OSBA is divided into five regions, each supporting the association's activities and programs. Attend a spring or fall regional conference to network with your regional manager and fellow board members and learn about regional activities while sharing in the successes of districts in your region. Visit www.ohioschoolboards.org/regions to find dates and locations for regional conference, learn how to get involved in your region and for contact information for your regional manager.
OSBA Capital Conference and Trade Show, November at the Greater Columbus Convention Center in Columbus 
The OSBA Capital Conference and Trade Show is Ohio's premier continuing education program — delivering practical solutions to help school district governance teams improve student learning and achievement. Information on the 2022 Capital Conference will be available in July.
Review the resources on the left to help you in your new role or browse the OSBA store for in-depth reading. Visit the Events page to learn about additional training opportunities available through OSBA. If you require a login to view a webpage, please contact OSBA at (614) 540-4000 or (800) 589-OSBA to request one.