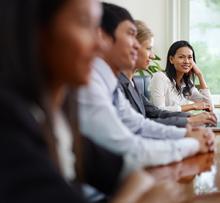 Welcome new board members!
Congratulations on being elected to your local school board. There is no greater contribution than serving as a member of the leadership team that provides educational opportunities for the children in your community!
We're here to help!
The Ohio School Boards Association began in 1955 after four regional associations banded together to coordinate activities. Today, OSBA is composed of 712 school boards. Their 3,424 elected board members represent Ohio's local, city, exempted village, career center and educational service center districts. The management teams of member boards also have access to all OSBA services. Download the OSBA membership guide to learn more about the association.
Review the resources on the left to help you in your new role or browse the OSBA store for in-depth reading. Visit the Events page to learn about the training opportunities available through OSBA. If you require a login to view a Web page, please contact OSBA at (614) 540-4000 or (800) 589-OSBA to request one.