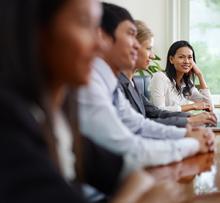 Welcome new board members!
Congratulations on being elected to your local school board. There is no greater contribution than serving as a member of the leadership team that provides educational opportunities for the children in your community.
We're here to help!
The Ohio School Boards Association began in 1955 after four regional associations banded together to coordinate activities. Today, OSBA is composed of 711 school boards. Their 3,424 elected board members represent Ohio's local, city, exempted village, career center and educational service center districts. The management teams of member boards also have access to all OSBA services.
To help you start off on the right path, register for OSBA's Board Member 101 workshops. These workshops focus on board governance, legal, policy and advocacy issues. Learn about the important aspects of board work, frequently asked legal questions, how board policies help govern your district and how to be an effective legislative and student achievement advocate for your students. Click the links below to register.
Board Member 101: A comprehensive professional development experience for the first year of office
This training will help you start off on the right foot. These two-day workshops are offered over two weekends in four locations:
• Jan. 8-9 at the Hilton Garden Inn Toledo Perrysburg in Perrysburg, or AC Hotel Cincinnati Liberty Center in Liberty Township
• Jan. 22-23 at the Holiday Inn Cleveland South in Independence, or Renaissance Columbus Westerville/Polaris Hotel in Westerville
You can click the links above to register or contact Shannon Camerucci at scamerucci@ohioschoolboards.org
Review the resources on the left to help you in your new role or browse the OSBA store for in-depth reading. Visit the Events page to learn about additional training opportunities available through OSBA. If you require a login to view a webpage, please contact OSBA at (614) 540-4000 or (800) 589-OSBA to request one.