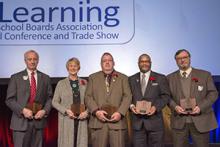 Five Ohio board members will take center stage this November to receive the association's most prestigious honor, the All-Ohio School Board Award. 
Earning the All-Ohio School Board Award is not an easy feat. Competition is heavy and the qualifications are considerable. But the board members who receive this award benefit greatly, both in their personal and professional lives.
Each region will appoint a review committee of school board members to be responsible for selecting the All-Ohio winners from the region's Master Board Members. Judges will be looking for board members who obviously are concerned for the education and welfare of children, make the necessary time commitments, invest in their own ongoing in-service development, practice good decision-making, work with their fellow board members as a team and follow OSBA's code of ethics. 
The All-Ohio School Board Award winners will receive a plaque at the OSBA Capital Conference and Trade Show. 
Direct any questions to your regional manager.
Procedure
• Each region shall provide a committee of school board members to select one of the designated board members to represent the region on the All-Ohio School Board. No member of the region selection committee is eligible to be selected.
• A board member who has been selected for the All-Ohio Board is not eligible for selection to the All-Ohio Board a second time.