Earlier this week, the U. S. Department of Education's (USDOE) Office for Civil Rights (OCR) released the most recent biennial Civil Rights Data Collection (CRDC). The data included in the 2015-16 CRDC was self-reported by more than 17,300 public school districts and almost 96,400 public schools and educational programs.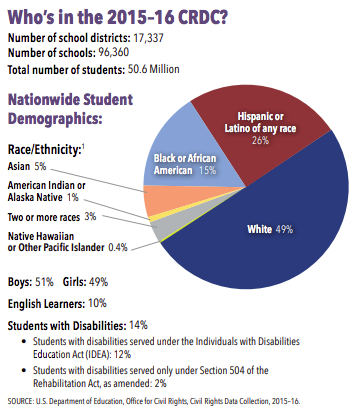 ​
The CRDC collects information about student enrollment and educational programs and services. Most of the information then is separated by race, sex, English learners, and disability. The purpose of the CRDC is to obtain data related to the nation's public school districts and elementary and secondary schools regarding their obligation to provide equal educational opportunity. OCR uses the CRDC to assist with enforcement and monitoring of schools to ensure that recipients of federal financial assistance do not discriminate on the basis of race, color, national origin, sex and disability.
USDOE has collected civil rights data about schools in the country since 1968. However, the CRDC is now tracking additional sets of required information. The CRDC released this week includes comprehensive data regarding incidents of criminal offenses in public schools and several new categories of data on students taking Science, Technology, Engineering and Mathematics (STEM) courses. Using the 2015-16 CRDC, USDOE has already produced topic briefs on STEM course taking and school climate and safety. The topic briefs include graphic illustrations of the collected data.
OCR relies on CRDC data from public school districts as it investigates complaints alleging discrimination, initiates proactive compliance reviews to focus on particularly acute or nationwide civil rights compliance problems, and provides policy guidance and technical assistance to educational institutions, parents, students and others. In addition, the CRDC is a resource for other Department offices and federal agencies, policymakers, and researchers working on education policy issues. The CRDC also is available to educators and school officials, parents and students, and other members of the public who seek data on student equity and opportunity.
The CRDC page offers several options for accessing the data.
Posted by Jennifer A. Hardin on 4/27/2018