On Tuesday, the Ohio Department of Education (ODE) emailed district superintendents, special education contacts and community school sponsors, announcing that their special education ratings were available online. The ratings, which are required by the Individuals for Disabilities Education Act (IDEA), evaluate implementation of federal requirements by school districts. The ratings released this week are based on data for the 2017-2018 school year, which were used to create the district's special education profile in Dec. 2018.
Each district or community school receives one of four ratings:
Meets requirements

Needs assistance

Needs intervention

Needs substantial intervention.
IDEA establishes enforcement measures states must apply for districts who receive needs assistance, needs intervention or needs substantial intervention ratings, as shown in this ODE table: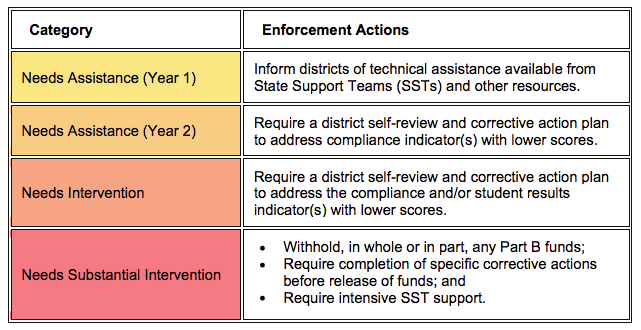 ​
In the past, special education ratings have been based on measures of procedural compliance, such as initial evaluation timelines, early childhood transition, and disproportionality in discipline rates, special education, and specific disability categories. Beginning with the ratings released this year, measures of results for students with disabilities are included. Results indicators for students with disabilities include math and reading proficiency across all grades and third-grade reading proficiency rates. More information about the data used to establish ratings, including annual targets and the ratings process, is available from ODE.
There is a brief window for districts to submit appeals of their ratings to ODE. Any district that wants to appeal should submit a completed appeal form and supporting documentation by Sept. 27, 2019. For more information about the appeal process, contact ODE's Office for Exceptional Children at determinations@education.ohio.gov. Questions about ratings can be sent to the same email address.
Posted by Jennifer A. Hardin on 9/20/2019