September is almost here! School buses are back on the road, lunch bags are back on the kitchen counter and educators are in that exciting back-to-school mood. As the new school year begins, it's a good time for a reminder of upcoming school deadlines required by state law and resources available to districts.
September deadlines
There are a couple of important September deadlines for school districts and school boards.
First, on Sept. 9, the Ohio Department of Education (ODE) will close the reporting window for districts to report the use of funds provided for student wellness activities. If your district received funds through ODE for disadvantaged pupil impact aid, base cost student wellness and success, and/or student wellness and success funds allocated in fiscal years 2020 and 2021, you are required to complete a report detailing the planning, use of funds and expenditures for the 2021-22 school year. If you need a refresher on what these funds are and how districts were to use them, ODE has prepared a helpful spreadsheet for your use. The reporting tool is in the Data Collection Tool application in the OH|ID web portal.
Second, before Sept. 30, all school districts and educational service centers (ESC) must submit their annual business advisory council plans. These plans can be uploaded through the Data Collection Tool application in the OH|ID web portal. If your board has an agreement with an ESC or joint vocational school district (JVSD) that the ESC's or JVSD's business advisory council will represent the business of the district, you are not required to file a separate plan annually. The plan filed by the ESC or JVSD will cover the requirement for your board's filing as well. However, the district will need to answer some questions within the same data collection application so ODE can track their supporting ESC or JVSD. ODE has tools available for school districts who are working on their plans or need additional help with their business advisory council. Districts can attend one of four virtual office hour sessions scheduled over the next four weeks for additional help. No registration is required to attend office hours.
Attendance Awareness Month
September is Attendance Awareness Month! As OSBA Staff Attorney John Price covered in yesterday's school opening town hall, Ohio is a compulsory attendance state with laws governing how districts should be working with students and families to improve attendance. Some additional tools are available from ODE. Along with its partners Harvard University's Proving Ground and the Cleveland Browns Foundation, ODE has planned a schedule of activities over four weeks in September to help districts celebrate regular school attendance. More information is available at the Stay in the Game! Network.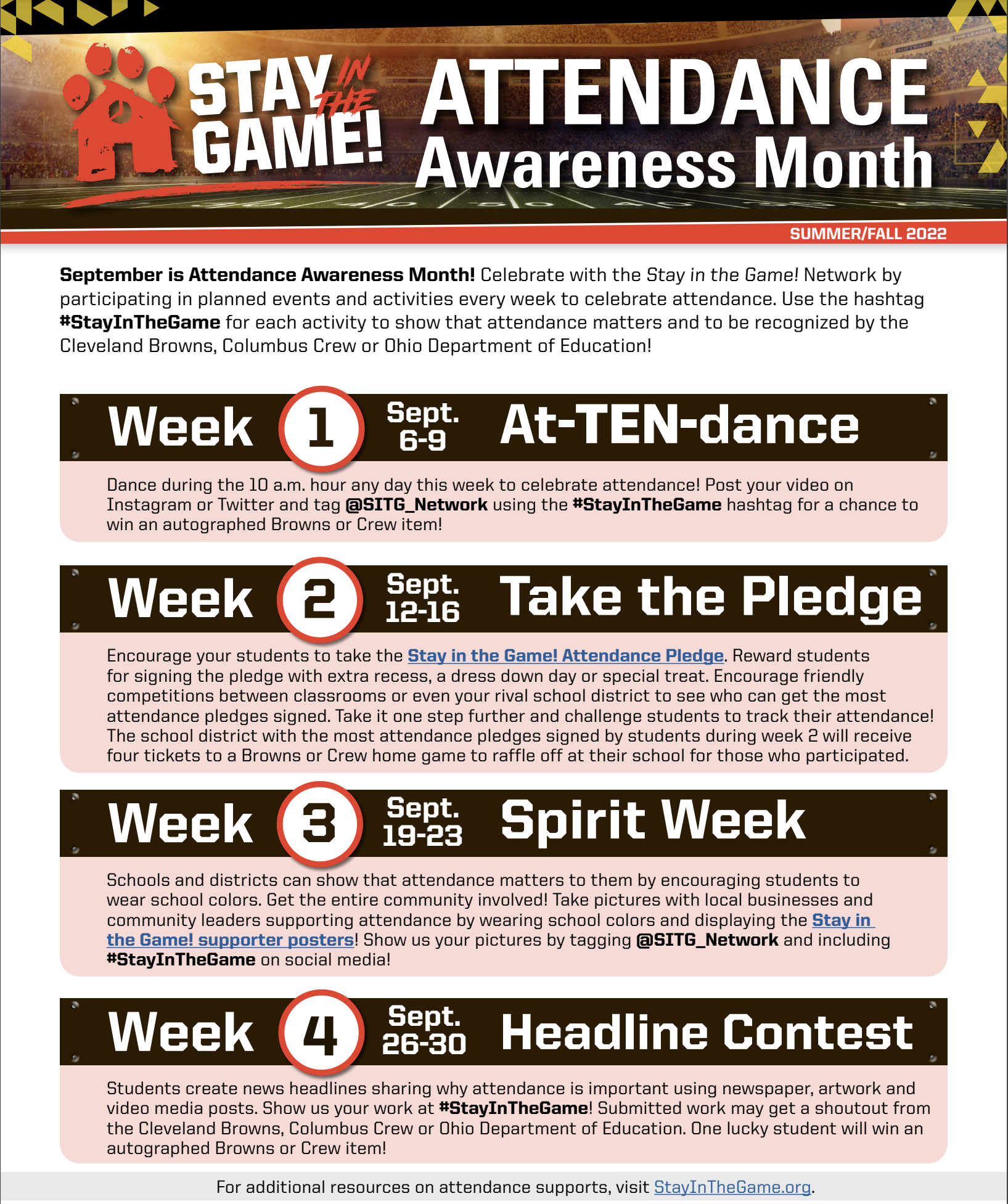 OSBA's division of legal services will continue to monitor legal deadlines and other matters that affect Ohio's school districts. For more information about these issues, or any other matters, please reach out to the division at legalhotline@ohioschoolboards.org or (855) OSBA-LAW.
Posted by Jennifer A. Hardin on 8/26/2022