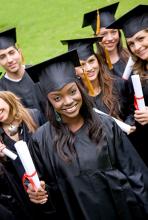 Public education has changed since OSBA created the Student Achievement Initiative to focus efforts on improving student achievement in November 1998. Academic reform legislation from the Ohio General Assembly and Congress increased accountability and raised student success.
School boards are doing their part to ensure every Ohio student receive the best education their communities can offer. School board members make decisions that affect programs and allocate resources in a manner that improves test scores, keeps kids in school and better prepares all our students for the worlds of work and higher education.
The OSBA Student Achievement Initiative's goal is to make improved student achievement an ongoing and visible part of the work of every school board in Ohio.
This web page is your portal to student success.
Success, a monthly e-newsletter, offers OSBA members timely tips to improve student achievement. OSBA publishes Success as a free member service. 
Each board of education is asked to appoint a student achievement liaison, who links the individual school board to OSBA's Student Achievement Leadership Team  (SALT) to help share ways districts are improving student achievement.
The Student Achievement Leadership Team is comprised of school board members who provide expertise to lead the initiative. It publishes a number of valuable resources, tips, web links and resource kits to help board members make informed decisions on a wide variety of topics. These resources and links can help boost student achievement in your district.
The OSBA Capital Conference and Trade Show features a Student Achievement Fair, showcasing 100 innovative student achievement programs from around the state. Performing groups from each of OSBA's five regions also entertain attendees.
U.S. students make gains on international assessments
U.S. students made significant progress in fourth and eighth grade math according to a recent NCES report, Highlights from TIMSS 2007. Furthermore, U.S. students performed above the international average, performance on this TIMSS assessment was similar to some countries that have outperformed the United States in the past, U.S. scores have risen since 1995, and the number of countries who have outperformed the United States in the past is declining. All in all, the United State's relative standing increased in both grades compared to other countries in math while remaining steady in science. Click here to view NSBA's summary.
Student achievement databases
Two databases are available to assist you and your district in networking with other districts. The Program Database provides information on successful student achievement programs from school districts around Ohio. The Liaison Database provides contact information on every school district's student achievement liaison.
College and scholarship information
OSBA has compiled a list of web sites to assist you in your search for choosing and paying for a college education. These sites will help you through the maze of what scholarships exist and how to apply.
Directory of online colleges and universities
A database of every online program offered by an accredited college in the United States is available for free and is updated yearly.