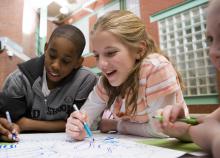 OSBA created the Student Achievement Initiative to focus efforts on improving student achievement in November 1998. Much has changed since its origin, but many of the pressing issues in 1998 remain today. Two decades of research has produced guidance around the role of the school board and how that role impacts student achievement. The findings show how impressive the results are when a board of education makes student achievement the primary focus.
This portion of the website identifies student achievement areas that are important for board members.  The content of this page helps board members make student achievement the primary focus of board and district work as well as provide resources that can inform decisions and help formulate questions to guide present or future student learning conditions.
The following information can be accessed on this page.  
Board's Role in Student Achievement - There are core skills that effective boards need to ensure that all students achieve at high levels. These skills form a framework for effective school governance. Organized around the National School Boards Association, Key Work of School Boards, these core skills can guide school board action by exploring, questioning, assessing and working with others to improve outcomes and opportunities for students.
An effective board focuses on these key areas:
Barriers to Student Achievement - Factors that prevent a child from learning to his or her full potential may be considered barriers to learning.These barriers to student achievement exist in a child's school and within the home. Many of these problems can be addressed with awareness and action,  parental involvement or community support.
Educational Trends - A trend is defined as a general direction into which something is changing, developing, or moving toward.  Just like business and marketing, understanding educational trends is an important part of our work in public education.
Career and College Ready - What is career and college ready? Simply put, it means that students who graduate from high school are prepared to enter and succeed in postsecondary opportunities—whether those opportunities involve enrolling in college, seeking advanced employment skills for a sustainable wage career or enlisting in the military. How do we judge if our students are ready? They enter their postsecondary experiences without need for remediation.
Educational Research - A list of education-related research materials for school board members and administrators. In addition to creating original publications for members, OSBA is working with Ohio colleges, universities and education organizations to disseminate studies about what works in K-12 public education.
Issues in the Schoolhouse - Students deal with numerous issues outside of the classroom that affect their performance in schools. Students regularly have to deal with societal issues ranging from poverty, homelessness and hunger to bullying, suicide and drug use. These resources can assist districts in helping their students.