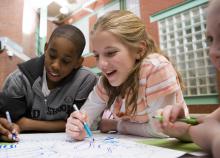 OSBA created the Student Achievement Initiative to focus efforts on improving student achievement in November 1998. Much has changed since its origin, but many of the pressing issues in 1998 remain today. Two decades of research has produced guidance around the role of the school board and how that role impacts student achievement. The findings identify what a good school board looks like and show how impressive the results are when a board of education makes student achievement the primary focus.
There are core skills that effective boards need to ensure that all students achieve at high levels. These skills form a framework for effective school governance. The National School Boards Association named this framework the Key Work of School Boards. These core skills can guide the school board's vision by exploring, questioning, assessing and working with others to improve outcomes and opportunities for students.
An effective board focuses on five key areas:

Ohio School Boards Association proudly supports the Ohio Department of Education's promotion of the Future Ready Schools Framework.  OSBA is committed to educational excellence by serving Ohio's public school board members and the diverse districts they represent through superior service and creative solutions.  Future Ready Schools helps K-12 leaders plan and implement personalized, research-based digital learning strategies so all students can achieve their full potential.