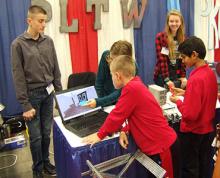 Monday, Nov. 9, 2020 • 10 a.m. to 2 p.m.
The Student Achievement Fair is one of the most successful and rewarding exhibitions at the Ohio School Boards Association Capital Conference. 
Do you want to see your district involved in the conference? Space is limited, please see details below!
District programs - One hundred programs will be selected to showcase exemplary student achievement. District programs will be featured in a 10x10-foot booth, which can accommodate up to five people. Examples of previous presentations include:
STEM projects
outdoor education
career center culinary arts program
graphic design demonstrations
industrial technology projects
world languages exhibits
For more ideas, visit http://conference.ohioschoolboards.org/2019/for-attendees/student-achievement-fair/student-achievement-fair-booths/ to view the list of 2019 Student Achievement Fair district programs.
Performing Groups - OSBA selects one performing group from each of the association's five regions to perform during the Student Achievement Fair. Past performances have included cheerleaders, choirs, bands, orchestras and percussion ensembles. Each group performs for 20 minutes. The 2020 nomination deadline is Tuesday, June 30.  Please consider nominating your performing group in 2020.
Artwork - All accepted program nominations may bring one piece of student artwork from any age or grade from their district to display during the fair. This artwork may be a photo, drawing or painting that will be displayed within the Student Achievement Fair.
Have questions?
Please contact Gwen Samet or Teri Morgan at (614) 540-4000 or (800) 589-OSBA.