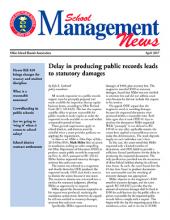 School Management News (SMN) is a monthly school management update designed to provide districts with the latest news affecting day-to-day operations. Topics include:
labor relations
human resources
business and finance
arbitration awards
State Employment Relations Board decisions
court decisions
labor contract settlements
district and building-level management considerations
other relevant commentary
Primarily authored by OSBA staff, SMN is always topical, interesting and thought provoking.
A one-year subscription to SMN is $210 for paper subscriptions for up to 15 subscribers. SMN also is available for $150 per year for up to 15 subscribers if all subscribers choose to receive the publication electronically. Contact Susie Cinadr at (614) 540-4000 to subscribe to this monthly publication.
OSBA complies contract settlements to include in School Management News. 
View all current public sector collective bargaining agreements reported by Ohio's State Employee Relations Board.