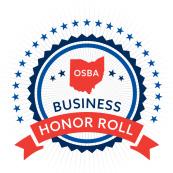 OSBA helps you recognize those businesses that support your school district. Thank you to the districts that participated in the 2023 Business Honor Roll program. A full list of 2023 honorees can be found here.
Businesses large and small, corporate-owned or family-run, play a key role in supporting the community and local schools. From helping schools with in-kind or financial contributions, donating to scholarship programs and supporting extracurriculars to offering internship opportunities, volunteering in the schools and sponsoring field trips, businesses contribute to schools in many ways. 
"The Business Honor Roll provides our district the ability to recognize the many local industries and businesses that go above and beyond in their assistance to our school district. This assistance has been integral to what we do as a district over the years, from the support for STEM grant proposals within our district, to the many needs that surfaced during the pandemic that local businesses rose up to assist us with, continuing our commitment to the students and families of our district.  This is just one small way to say 'thank you for thinking of us' during these ever changing times in education." - Tom Evans, superintendent, Cuyahoga Heights Local (Cuyahoga)
OSBA will mail personalized recognition certificates and letters of congratulations for each business to district superintendents in time for boards to present to them at the boards' May meetings.  
For questions on this program, please contact Marketing and Trade Show Manager Wanda Bloch at (614) 540-4000, (800) 589-OSBA or wbloch@ohioschoolboards.org.