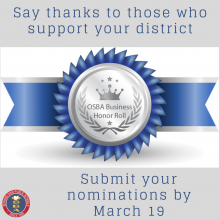 OSBA is excited to once again offer the Business Honor Roll program. This thriving program provides school districts the opportunity to recognize and say thank you to their local businesses for their contributions and continued support.
Nominations are now being accepted. Click here to make your nominations.
School-business collaboration creates a win-win situation. Schools receive additional support and their students get real-world experience while learning from professionals in many different fields. Businesses also can gain a better understanding of their school systems, and let educators know about the critical workforce skills students need to succeed.
Businesses help support schools in many ways. Below are just a few examples:
internship/job shadowing programs;
volunteering in schools and offering employees time off to volunteer;
supporting extracurricular programs;
supporting programs with in-kind or financial support;
buying ads in event programs;
donating to scholarship programs.
 
Districts are limited to five nominations; four individual businesses for any kind of support and one group nomination for a specific project where all businesses involved can be named. There is not limit for the amount of businesses for the group nomination.
School-business collaboration in the Lancaster community is a win-win. Year after year, their contributions play a huge role in the success of the Lancaster City School District, from providing free shoes to students, paying balances of unpaid student lunch bills, donating free athletic physicals for our students, the list goes on. Their continued efforts for the betterment of the student body is amazing."  OSBA's Business Honor Roll program is an excellent way for districts to congratulate and recognize area businesses."  Lee Ann Haight, Administrator of District Services, Lancaster City Schools  
OSBA will mail personalized certificates to district superintendents in time for boards to present them to honorees at May meetings. A full list of honorees will be posted on OSBA's website.
For questions on this program, please contact Marketing and Trade Show Manager Wanda Bloch at (614) 540-4000. 
Nominations will be accepted from Feb. 1 to Friday, March. 19.