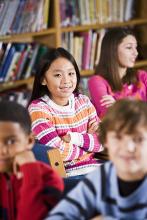 What is Kids PAC and why should you donate to it?
Political Action Committees (PACs) are accounts from which contributions to political campaigns can be made. Kids PAC is a way for us to focus attention on our legislative agenda and to support lawmakers who believe in our goals.
Kids PAC was established by the OSBA Executive Committee to give board members the opportunity to belong to a PAC whose membership was aware of the problems facing boards of education and whose goals were aimed at dealing with those issues.
We need to be active players as we advocate for the children of Ohio. We need a strong PAC. Whether we like political action committees or not, they are part of the process as we advocate for the future of public education. Join Kids PAC today!
Contributions
Contributions can be made by cash (cash donation cannot exceed $100) or by personal check made out to Kids PAC. By law, school district and corporate checks can not be accepted. All contributors will be recognized in the OSBA Journal.
Click the DONATE button below to give.
Note: Contributions are not deductible as charitable contributions for federal income tax purposes.
Ohio's kids are counting on you!
For more information or to obtain a membership form, contact Renee Gibson at rgibson@ohioschoolboards.org or call (614) 540-4000.