2016 OSBA Student Video Contest is now accepting entries!
It's time to enter OSBA's annual "Stand Up for Public Schools" Student Video contest. The deadline for submissions is October 10, 2016. The popular competition had more entries than ever before in 2015 — 61 videos were submitted by students from across Ohio expressing their thoughts and ideas on how public schools make a difference. In its fifth year, the contest is part of OSBA's "Stand Up for Public Schools" promotional campaign.
To enter, public high schools submit videos no longer than 1:30 that convey the contest theme. Junior high schools with designated video production programs are also eligible to participate. The top 3 videos win prizes for their respective schools' video production program. The winning videos will be shown during a General Session at the 2016 OSBA Capital Conference. Click here for contest entry rules and materials.
A panel of independent media professionals will judge the videos. Listed left to right in the picture below are the 2015 judges: Reporter Glenn Battishill, The Delaware Gazette; Anchor/Reporter Maria Durant, ABC6/Fox28; Assistant News Director/Anchor Ken Stevens, Newsradio 610 WTVN. Watch the winning videos from 2015 below.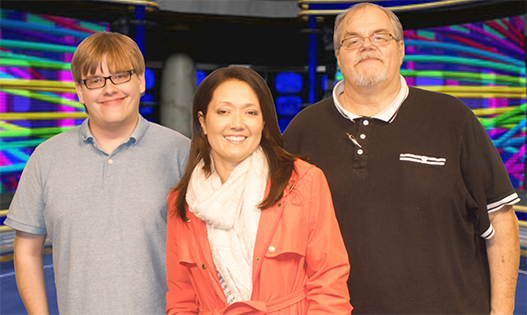 The winning videos from 2015 are:
First Place
Dublin City Schools — Dublin Coffman High School
Second Place (tie)
Trumbull Career and Technical Center
Second Place (tie)
Dublin City Schools — Dublin Coffman High School
Third Place:
Ridgemont Local (Hardin) — Ridgemont High School