Welcome to the OSBA Book Club--Fall 2020 Edition! We are looking forward to continuing the goal of lifelong learning through the reading and sharing of more great books.  Our goal is to choose books that are of interest to school district leaders and that can help them in better understanding their work, growing their relationships with staff and community members, building leadership skills or simply because of personal interest.
It's free to join the OSBA Book Club but you must be registered as a Book Club member to receive its communication.  Book Club members receive email notification when a new book is selected.  As we read each book, we'll send members two or three questions to encourage discussion at board meetings or with district leadership team colleagues.
The OSBA Book Club began in the winter of 2014 with "How Children Succeed:  Grit, Curiosity, and the Hidden Power of Character", by Paul Tough.  Check out the many great selections we have read since then.  Please join us for our current book or spice up your knowledge with one of our previous reads.
This fall we are reading, The Essential 55, by Ron Clark. 
Click below to order the book through Amazon.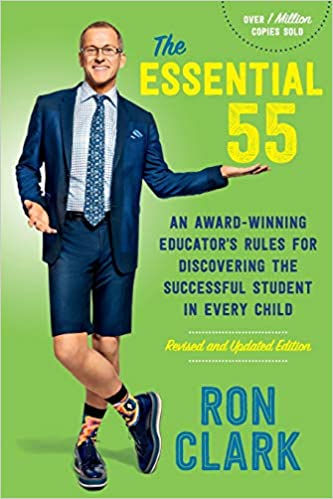 This is a simple guide to bringing out the best in students, written by a teacher who taught in some of the most difficult schools in the country. It discusses how best to promote respect and foster a mature and responsible way of living. Its 3-pronged approach includes high expectations, an unmistakeable belief that children can succeed and a support system that makes students want to do the right thing.
Ron Clark is a New York Times bestselling author, Disney "American Teacher of the Year" and Oprah Winfrey's first "Phenomenal Man." He founded The Ron Clark Academy in Atlanta, Georgia, to help educators learn more about the relationship between classroom management and children's success.
We will begin reading on Tuesday, September 15, 2020. Thought questions will be emailed to Book Club members:
Wed., Sept. 30   Chapters 1- 18
Wed., Oct. 14     Chapters 19 - 37
Wed., Oct. 28     Chapters 38- Closing
Register now | Purchase the book
The OSBA Book Club is a cost-free program allowing member districts (board members, administrators and district staff and community members) to read and learn together. OSBA's Cheryl W. Ryan explains why you should join the Book Club in the video under "Resources."Do you have a suggestion for another book that would be a great addition to the OSBA Book Club Series?  Email Teri Morgan with your suggestion.