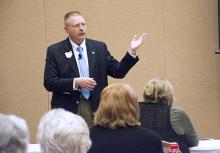 OSBA's Board Leadership Institute (BLI) is an annual professional development event designed by board members for board members. It provides new and veteran board members across Ohio information to help them guide their districts forward. The two-day institute is the only leadership development event in the state designed exclusively for school board members. 
BLI offers in-depth workshops taught by the leading experts on topics ranging from student achievement, finance and school law to legislative issues, curriculum and board development. The institute also features enlightening keynote speakers, networking luncheons, an on-site OSBA Bookstore and plenty of opportunities to share ideas and best practices with other board members and association staff.
BLI 2019 is April 26-27 at the Hilton Columbus/Polaris. Registration includes breakfast and lunch on both days and workshop materials from each of the 17 breakout sessions. There is not a special one day rate. Contact Laurie Miller at (614) 540-4000 or (800) 589-OSBA; or Lmiller@ohioschoolboards.org  with any questions.
Registration cancellation and refund policy:
• Cancellations received by OSBA on or before April 19 will receive a full refund.
• Cancellations received after April 19 will be charged $143.
• No-shows and cancellations the day of the event will be charged $285. 
Location
Hilton Columbus/Polaris 
8700 Lyra Drive
Columbus, Ohio 43240
Call (614) 885-1600 for reservations. Mention OSBA to get a rate of $139 for a single or double room. Room reservations must be made by April 5 to receive the special rate.