Featured Journal Article

Summer academy helps Cuyahoga County students

by Gary Motz, OSBA editorial manager

Research finds that the transition from eighth to ninth grade is one of the most perilous points in a student's education. It's a crucial fork in the road, where the path taken often determines a student's success in high school, college and beyond.

The challenge is even greater for black, Hispanic and low-income students. Studies have shown these children are less likely to take college-track courses and enroll in college.
A 2008 ACT report, "The Forgotten Middle: Ensuring that All Students are on Target for College and Career Readiness before High School," found that more than 80% of eighth-graders are not on track to be ready for college-level work by the time they graduate from high school. The report also said, "The process of preparing students to make successful transitions from middle school to high school is just as important as the process of preparing them to make successful transitions from high school to postsecondary education."
To steer these at-risk students in the right direction, the Cuyahoga County Regional Summer Academy was launched in 2011. The six-week program is designed for students in schools with high minority and economically disadvantaged populations; low enrollment in college preparatory courses; and a high percentage of students who would be the first in their families to attend college. The program also targets what educators call "middle C" students, those whose academic performance could improve with timely intervention or go the other way.
The academy was created after Cleveland Mayor Frank G. Jackson called for a more regional approach to meet the needs of at-risk students, said Dr. Jennifer Dodd, ESC of Cuyahoga County director of operations and development. ESC Superintendent Dr. Robert Mengerink and fellow ESC colleagues worked with Jackson, State Sen. Nina Turner (D-Cleveland) and Cleveland Municipal Schools to develop the academy.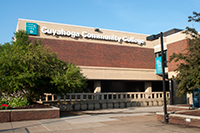 "They wanted to create a 'jump school' to get kids prepared for high school and make sure that they were ready to meet the challenges," said Rick Gurski, Cuyahoga County Regional Summer Academy principal. Gurski also serves as Freshman Experience principal at Euclid City's Euclid High School. "The transition between middle school and high school is critical. If you're not successful in the ninth grade, you're not likely to be successful later. Making that transition is an integral part of a student's education and we want to make sure they're prepared and coming into high school without any gaps, and knowing what's expected of them."
The tuition-free academy, based at Cuyahoga Community College's Metro Campus in Cleveland, is funded through a mix of grants and in-kind support from community partners. It draws students from a diverse range of Cuyahoga County school districts, with approximately half of them coming from Cleveland Municipal Schools. About 70 students were enrolled for the summer 2013 session.
The program has expanded in recent years to include students entering 10th and 11th grade, with hopes of adding incoming seniors in the future. The curriculum focuses on mathematics, science and language arts, and incorporates Ohio's New Learning Standards. It also is filled with innovative ways to engage students, including weekly themes such as sports and recreation, arts and music, pop culture and travel.
"We're targeting the middle-of-the road student that might get overlooked during the school year," Gurski said. "A lot of high school programs are geared toward high-achieving or low-achieving students. This program provides students with interactive, project-based activities to help them improve their skills and find more success in the future."
Focusing on college readiness
In addition to Gurski, the 2013 academy was staffed by an assistant principal and 12 teachers. All teach and work at school districts in the region and are hired as ESC of Cuyahoga County employees for the summer session. Also on staff are two College Now of Greater Cleveland counselors who teach and advise students. The organization works with Cleveland-area students to help them prepare for and graduate from college.
"College Now was formerly the Cleveland Scholarship Programs, which provided first-generation college students scholarships and other assistance to help them attend college," Gurski said. "College Now has expanded upon that concept by providing counseling and mentoring, in addition to scholarships."
Dodd said College Now counselors develop college and career programming for the academy, such as introducing students to the Ohio Career Information System and conducting the ACT Engage assessment that looks at college readiness behaviors. The assessment helps educators determine which students are at risk of having academic difficulties or dropping out; analyze strengths and weaknesses; identify interventions and support resources; and track progress.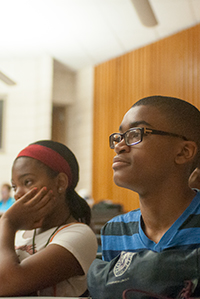 "One of College Now's projects at the academy is having students create a collage illustrating things they are interested in," Gurski said. "The counselors then talk to them about what they should focus on and what they need to do now to pursue those interests. For example, if you're putting pictures of Ferraris on your collage, you probably want to make sure you're at the top of your class."
The counselors also talk to students about the importance of maintaining a good GPA, preparing for college entrance exams, building résumés and the nuts and bolts of getting into college.
"Speaking from my own experience as a first-generation college kid, there are a lot of questions," Gurski said. "How do I pay for this? How do I apply? Providing kids that set of skills gives them a step up on their peers and opens some doors. Some students here haven't had the opportunity to even think of going to college."
Intervention specialist and teacher Ken Davenport said he is impressed with the academy's emphasis on getting students to look ahead and determine what steps are needed to reach their goals.
"They do a huge amount of work here with career inventory exploration," Davenport said. "The academy starts from scratch with the career interest survey and shows kids the careers linked to their interests. They keep digging until a kid says, 'Hey, that's something I want to get into.'
"I think the most important thing they're going to get out of this academy is the career inventory, which helps them narrow down their fields toward what they want to do after high school."
Guest speakers enable students to get an up-close look at different careers. Each summer session features 15 to 20 speakers from different career fields, ranging from law enforcement, health care and the military to architecture, culinary management and education. These professionals discuss what they do, share how they built their careers and answer scores of questions from students.
"I really enjoy it when the speakers come and tell us about their careers, what they did to get there and what mistakes they made," said Marcus Snorton, a sophomore at Cleveland Heights-University Heights City. "That helps me learn what I need to do and what not to do to get into the college of my choice."
"Listening to the speakers has helped me figure out what I want to do, which is become a pharmacist," said Cleveland Municipal freshman Laud Ashong, who moved to the U.S. from Ghana earlier this year. "They tell us about opportunities, salaries, scholarships and the colleges you need to go to."
Keeping kids engaged
The academy must compete with many other summer activities for students, such as sports clinics, vacations, youth athletic leagues, day camps, jobs and other academic opportunities. Since attendance is voluntary, there are no academic or disciplinary sanctions for absences. That means teachers and administrators must create an environment that makes students want to be there.
The academy provides breakfast, lunch and city bus passes, and encourages family involvement. The curriculum is designed to engage students by incorporating project-based learning into the weekly themes.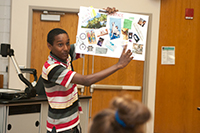 "There are all sorts of fun activities where the kids get to go outside, in addition to classroom projects," Gurski said. "For math, we've had Barbie bungee jumping and calculated the running speed of dinosaurs based on fossil records. Students designed a dream basketball team with an owner, general manager and central office personnel. They had to determine who they were going to hire, why they were hiring them and how to set salaries based on the team budget.
"These projects teach them 21st century skills in technology and collaboration. They work with Google Docs and other presentation-type software. They're learning to work collaboratively with students they don't know, kids from about 14 or 15 Cuyahoga County districts. And some of them are building lasting friendships and working relationships."
Other projects have included the history behind the lyrics of Billy Joel's "We Didn't Start the Fire," which span four decades of U.S. history; dividing a town into pizza delivery regions using algebra and geometry; exploring the economics of a road trip from Cleveland to Cincinnati by using different methods to calculate fuel efficiency and the shortest route; and taking photos around the community college campus and writing poems and essays about them.
Gurski said students also build strong relationships with teachers, thanks to a 10:1 student-teacher ratio made possible by having multiple instructors in each classroom. That allows plenty of time to interact in class, as well as at breakfast, lunch and other times throughout the day.
"The kids here come ready to learn; there's not a lot of pulling teeth to get them to work," said language arts teacher Katrina Spencer. "And with the project-based learning, the student-teacher ratio is exceptional. That allows us to do one-on-one intervention with students and focus on different skill sets. Without the pressure of having to cover a long list of requirements, you have the flexibility to go more in-depth into topics that are more interesting to students."
In addition to the project-based learning, the academy supplements the instruction with an online program called Kids College, Dodd said. The program — which incorporates games into the curriculum — leads students through reading and math exercises.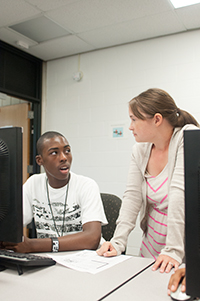 "We start out the first week by getting a baseline on a student's abilities," Dodd said. "Kids College collects real-time data as they work, which helps us assess their strengths and weaknesses. That enables us to use that information to conduct some targeted intervention on basic skills a student may be missing. We also share that data with their home districts.
"Since students have to log into the program, we can track their progress. They are really getting engaged with it; we've even seen some students work on it at home. That's pretty awesome to see."
As an additional incentive, Gurski has conducted weekly raffles for gift cards donated by local businesses for students with perfect attendance that week, Dodd said. This year, students who missed no more than three days of the academy were entered in a raffle to win an iPad.
Students also get a taste of university life by spending their days attending sessions in different buildings on the Cuyahoga Community College campus, just like college students.
"I like it when we split up into small groups and walk around the campus and see what the actual college kids get to do," said Mauriyai Harris, a Cleveland Municipal freshman. "This is my first time on a college campus."
Looking to the future
What started just two years ago as a program solely for freshmen has expanded to include sophomores and juniors, with hopes of soon adding seniors. It has seen students and teachers return each summer and earned the support of community partners and families. And, it has helped scores of students navigate that crucial transition from eighth to ninth grade.
"The academy taught me the basics of what was going to happen in high school and the problems I might face, so when I got there it wasn't a big surprise," said Euclid City junior Jasmine Duncan, who has attended the academy since it opened. "By the 10th grade, I had noticed a change in my academics and my social skills and I knew the academy had helped."
Lakewood City sophomore Amon Hanshaw said the program also has improved his academic performance and outlook.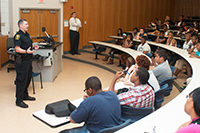 "When I went into ninth grade after my first summer here, I had studying techniques I didn't have before and that helped me do better in school," Hanshaw said. "I can attribute a lot of my success to this program. It's helped me to realize my strengths and focus on a career."
The last day of each summer session features an all-morning college and career fair that wraps up with a luncheon, Dodd said. Higher education, business and industry representatives visit the campus to meet with students and their families. Mayor Jackson and Sen. Turner also have attended to meet with students and families and pose for photographs.
"The mayor's reaction to the academy has been very positive," Dodd said. "It has provided a good opportunity to demonstrate how the ESC can support a regional framework for education initiatives. People who are not familiar with ESCs don't know that much of their work aligns with the mayor's regional philosophy.
"What he wants — and what we want — is for this to become institutionalized and happen every summer so people get to know it, expect it and start to connect it to some of the other regional initiatives."
And, while the mayor might be pleased with the academy, he would be hard pressed to be more pleased than Ashong, the young immigrant student from Ghana.
When asked if he planned to return next summer Ashong said, "I'm coming back for the rest of my life. I love it here!"
Editor's notes:
• For more information about the Cuyahoga County Regional Summer Academy, contact Dr. Jennifer Dodd, ESC of Cuyahoga County director of operations and development, at (216) 901-4240 or jennifer.dodd@esc-cc.org.
• A video from OSBA's visit to the Cuyahoga County Regional Summer Academy is posted at http://links.ohioschoolboards.org/73774.