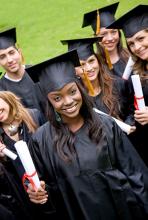 Student achievement resources
Student Achievement Fair Program Database
Information on successful student achievement programs from school districts around Ohio.
Success newsletter
A monthly e-newsletter, offers OSBA members timely tips to improve student achievement. OSBA publishes Success as a free member service. 
Student Achievement Leadership Team
The Student Achievement Leadership Team is comprised of school board members who provide expertise to lead the initiative. It publishes a number of valuable resources, tips, web links and resource kits to help board members make informed decisions on a wide variety of topics. 
OSBA Capital Conference and Student Achievement Fair
The OSBA Capital Conference and Trade Show features a Student Achievement Fair, showcasing 100 innovative student achievement programs from around the state. Performing groups from each of OSBA's five regions also entertain attendees.
National School Boards Association's Center for Public Education
The Center for Public Education provides research on how public schools are helping students achieve more each year.
Student Achievement Webinars
District Best Practices
Resource kits/Information papers
Education Vital Signs - Trend Analysis
#17 - Using technology in Ohio's schools
#15 - Reforming Ohio's high schools
#14 - Understanding the value of high-quality pre-K
#13 - Teaching students to serve
#12 - Student uniforms and student achievement
#11 - The student wellness-student achievement link
#9 - Does arts education in public schools increase student achievement?
#8 - Innovative career/technical programs that increase student achievement
#7 - Student Achievement Leadership Team program
#6 - Showcasing academic success to promote public schools

Ohio School Boards Association proudly supports the Ohio Department of Education's promotion of the Future Ready Schools Framework.  OSBA is committed to educational excellence by serving Ohio's public school board members and the diverse districts they represent through superior service and creative solutions.  Future Ready Schools helps K-12 leaders plan and implement personalized, research-based digital learning strategies so all students can achieve their full potential.